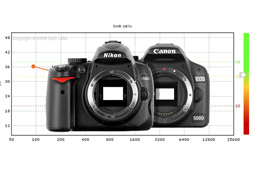 The Nikon D5000 and the Canon EOS 500D were two main releases for spring 2009. Launched at the same time, and targeting the same market, these two cameras were the perfect subjects to use for an extensive demonstration of the DxOMark Database.
There is a 10-point difference between the two cameras' Sensor Overall Scores. What does it mean? As explained in DxOMark Sensor: The essentials, such a difference corresponds to a sensitivity gap of 2/3 of a stop. But several questions remain open:
Why is there such a difference when these two sensors have nearly the same level of noise after normalization?
Is there a difference of 2/3 of a stop along the whole ISO range?
How is the comparison of the three Sensor Metrics used to obtain the Sensor Overall Scores?
Even though the answers to these questions are available on the DxOMark website, we think it useful to provide our readers with a typical case study by showing how we compared the two camera sensors and arrived at the 10-point difference.